Access 85% of what you can do in branch from your smartphone or tablet! Follow these steps to get our mobile app set up on your device today!
Step 1:
Go to your app store and download "Leaders Credit Union" app.
Download for IOS: apps.apple.com; For Google Play: google.com/store
Step 2:
Once downloaded, open the Leaders Credit Union app and tap the "Sign Up" option in the bottom left corner.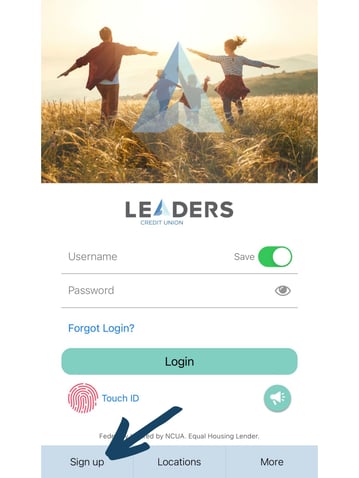 Step 3:
Enter your member number (if you need help finding this number call us at 731-664-1784).
Then enter your four digit pin. If you have never logged in before, this will be the last four of your SSN. If you have used our Automated Phone System (PAL) to check you balances etc. your pin will be your PAL pin, not the last four of your SSN.
If you receive a pin or member number error, please try again. If you are still experiencing issues, please contact us at 731-664-1784.
Step 4:
You will next be directed to the registration screen. Create your own username and password. Please select a username and password that will be easy for you to remember, but difficult for an intruder to guess. Avoid common information such as birthdates, relative and pet names, or any other information that might be publicly accessible.
Enter your mothers maiden name then click the terms and conditions link to review. Once reviewed, return and acknowledge that you accept the terms by checking the box.
Tap the complete sign up button to continue.
Step 5:
Enter your phone number, then select either a text message or call confirmation.
Please note, if your wireless service provider does not allow you to use data and be on a call simultaneously, you will need to be connected to Wi-Fi or choose the "Text me to confirm" option.
Step 6:
Once you've completed the verification step, return to the app.
That's it! Your accounts will already be listed under "My Accounts." You may begin to transfer money, make payments and access the many tools our mobile app has to offer!