Follow these steps to setup your online banking from a desktop, laptop, or tablet using our full website.
Step 1
Access the Leaders Credit Union website at LeadersCU.com
Step 2
Your screen should appear as below. If not, locate and click on the Login button to reveal the username and password fields, this is located in the top right-hand corner of the site.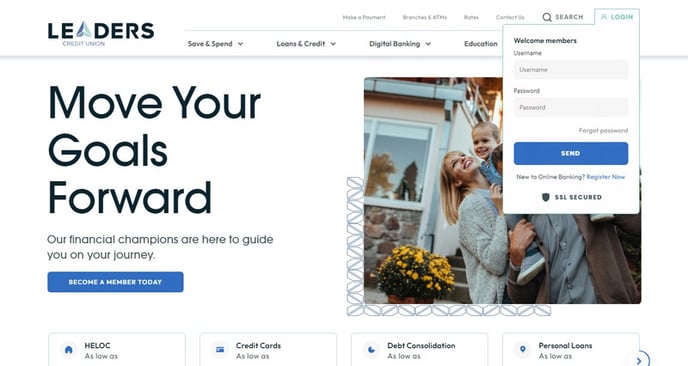 Step 3
For first-time users your username is your member number and your password is the last four of your social security number.
Please note: if you have used our automated phone system (PAL) to check your balances etc., your password will be your PAL pin, if not, it is the last four of SSN. Enter this information and click the login button below.
Step 4
You will now be directed to the registration screen.
If you receive a username and/or password error, please repeat steps 1 through 3. If you are still unsuccessful, contact us at 731.664.1784 for further assistance.
Step 5
Create your own username and password.
Please select a username and password that will be easy for you to remember, but difficult for an intruder to guess. Avoid common information such as birthdates, relative and pet names, or any other information that might be publicly accessible.
Step 6
Enter Mother's maiden name, then click the terms & conditions link to review. Once reviewed,

return and acknowledge that you accept the terms by checking the box so it appears as below.
Click Complete Sign Up to continue.
Step 7
Now you will need to verify and provide any additional contact information for us to verify your identity when logging in from a new device.
Step 8
Request a text or phone call for your code. Once received, enter the code in the box as shown below. If you are on a private computer you may choose to register it to eliminate the need for a verification code on future logins.
Step 9
That's it! Your accounts will already be listed under My Accounts. You may begin to check balances, transfer money, or make payments immediately.
Please Note: Make sure to enable email and text alerts under "Additional Services"
Learn more about Online Banking at Leaders.