The Leaders Mobile App puts the power of banking at your fingertips. Not only can you access your account information, you also have the ability to edit and reorder those accounts. Here is a step-by-step guide.
Sign in to our Mobile App
The first step is to download the Leaders Mobile App and sign in. Once signed in you should be on the Accounts overview page.

Favorite an Account
You can "favorite" the accounts you use most often which will list these primary accounts first on your Accounts page.
Simply touch the star to the right of the account name you want to favorite.
This will clean up your extra accounts and put any non-primary accounts under a collapsible "Other Accounts" tab.

Rename and Reorder Accounts
You can easily rename and reorder your accounts in the app. Follow these steps:
Touch the gear icon ⚙️ in top right of the app.
Once on the Settings page, select "Account Preferences."
Next, click "Edit" in the top right. You can now rename, reorder, and hide accounts.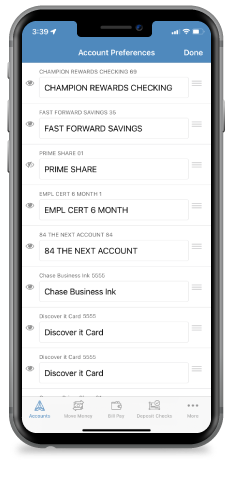 To rename simply tap inside the account name field of the account you wish to change and you can edit.
To reorder touch the three lines to the right of the account name and drag and drop in the order you want the accounts to show.
To hide touch the eye icon 👁️ to the left of the account name. Touch once to hide. Touch again to unhide.
Save and View your Changes
Once you are done editing be sure to select "Done" in the top right of the screen. In order to see your changes, you will need to logout and log back into the app.
That's it! You now have the ability to customize the your Leaders accounts to fit your needs.